Ad blocker interference detected!
Wikia is a free-to-use site that makes money from advertising. We have a modified experience for viewers using ad blockers

Wikia is not accessible if you've made further modifications. Remove the custom ad blocker rule(s) and the page will load as expected.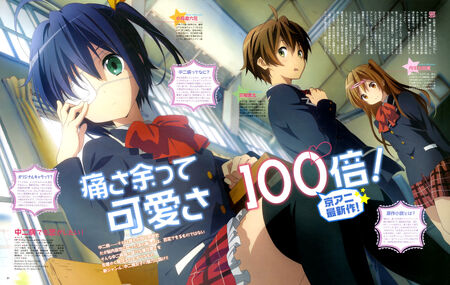 Chuunibyou Demo Koi ga Shitai! 中二病でも恋がしたい! is a light novel adaptation produced by Kyoto Animation with Ishihara Tatsuya [石原立也] as director.
The main characters in the story are dealing with "chuunibyou" or "middle-school second-year disease", the delusional phase where teenagers believe they have special backgrounds and powers such as those of anime or manga characters. The official English title is "Love, Chuunibyo & Other Delusions". Chuunibyou Demo Koi ga Shitai! is scheduled to start from 2012/10/03 (12:30AM JST) on Tokyo MX TV.
Genres
Comedy, drama, romance, science fiction, action
Themes
School, delusions, mecha
Theme Songs
Opening
Season 1
Season 2
Ending
Season 1
"INSIDE IDENTITY" by Maaya Uchida, Chinatsu Anasaki, Azumi Asakura and Sumire Uesaka (a.k.a. Black Raison D'etre)
"Shikkoku ni Odoru Haou Bushi" by ZAQ (ONA)
Season 2
"Van!shment Th!s World" by Black Raison d'être
Shin'en ni Mau Senritsu Shanikusai" (深淵に舞う戦慄謝肉祭 A Hair-Raising Carnival Dancing in the Abyss) by ZAQ (ONA)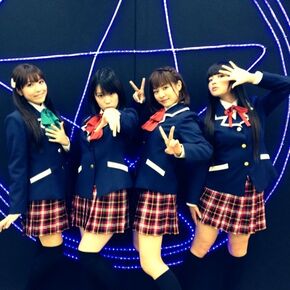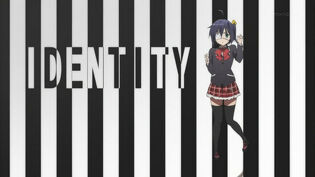 Seasons
Media