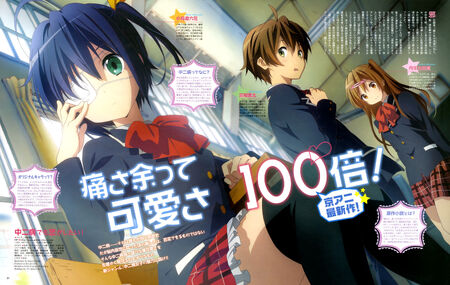 Chuunibyou Demo Koi ga Shitai! 中二病でも恋がしたい! is a light novel adaptation produced by Kyoto Animation with Ishihara Tatsuya [石原立也] as director.
The main characters in the story are dealing with "chuunibyou" or "middle-school second-year disease", the delusional phase where teenagers believe they have special backgrounds and powers such as those of anime or manga characters. The official English title is "Love, Chuunibyo & Other Delusions". Chuunibyou Demo Koi ga Shitai! aired from October 4 to December 19, 2012, and also recieved a second adaption under the title of Chuunibyou Demo Koi ga Shitai! Ren, titled in english as "Chuunibyou Demo Koi ga Shitai! -Heart Throb-". It also recieved a movie, titled Takanashi Rikka Kai ~Gekijou-ban Chuunibyou Demo Koi ga Shitai!~ ("Love, Chunibyo & Other Delusions the Movie: Rikka Takanashi Revision" in english), and several mini episodes streamed on Youtube.
Genres
Comedy, drama, romance, science fiction, action
Themes
School, delusions, mecha
Theme Songs
Opening
Season 1
Season 2
Ending
Season 1
"INSIDE IDENTITY" by Maaya Uchida, Chinatsu Anasaki, Azumi Asakura and Sumire Uesaka (a.k.a. Black Raison D'etre)
"Shikkoku ni Odoru Haou Bushi" by ZAQ (ONA)
Season 2
"Van!shment Th!s World" by Black Raison d'être
Shin'en ni Mau Senritsu Shanikusai" (深淵に舞う戦慄謝肉祭 A Hair-Raising Carnival Dancing in the Abyss) by ZAQ (ONA)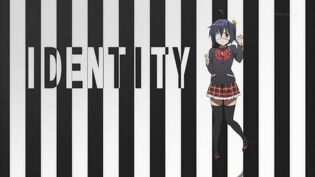 Seasons
Media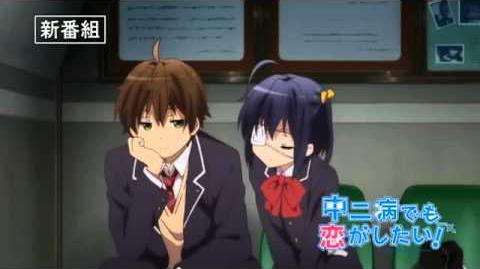 Ad blocker interference detected!
Wikia is a free-to-use site that makes money from advertising. We have a modified experience for viewers using ad blockers

Wikia is not accessible if you've made further modifications. Remove the custom ad blocker rule(s) and the page will load as expected.