Chuunibyou Demo Koi ga Shitai! Film's 2 Commercials Feature Rikka, Dekomori
Comments

0
Share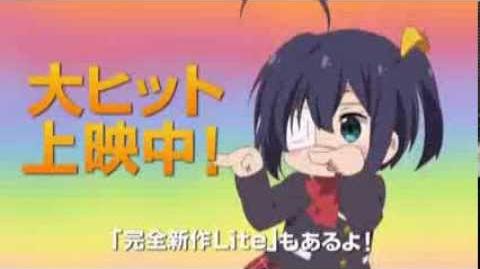 Two commercials for the Takanashi Rikka • Kai ~Gekijō-ban Chuunibyou Demo Koi ga Shitai!~ began airing on Japanese television on Saturday. In the first advertisement, Rikka Takanashi (voiced by Maaya Uchida) says, "Japan cried. Mori cried, too. Chimera also cried. Sanae Dekomori laughed. Kumin Tsuyuri slept," while in the second advertisement, Dekomori exclaims that "The entire universe has been waiting... That person has finally been reborn on the screen! Rikka Takanashi, reborn! I always wanted to try doing that." The film premiered in Japan on Saturday.
The film is a compilation of the first television season — only as seen from the character Rikka's eyes and reconstructed with new elements to make it interesting for the audience. The staff and cast from the first season are returning for this film. Rikka (as voiced by Maaya Uchida) will perform the opening theme song, while Rikka, Shinka Nibutani (Chinatsu Akasaki), Kumin Tsuyuri (Azumi Asakura), and Sanae Dekomori (Sumire Uesaka) will perform the ending theme "Secret Survivor" as Black Raison d'être.
Ad blocker interference detected!
Wikia is a free-to-use site that makes money from advertising. We have a modified experience for viewers using ad blockers

Wikia is not accessible if you've made further modifications. Remove the custom ad blocker rule(s) and the page will load as expected.